CPFL,Ceramic Poles Fluorescent Lamp

Ceramic Poles Fluorescent Lamp, CPFL for short, is a conventional fluorescent light tube with its end electrodes replaced with ceramic ones. It was invented by Santoma's ex-CTO, Dr. M. S. Yoon and his research assistant Mr. Hur.

Santoma has globally and exclusively owned this patent since Jan 1st, 2014, including but not limited to the rights of license and transfer of the patent.

CPFL technology overcomes major difficulties long encountered by the conventional Fluorescent Lamp; like parallel operation and linear dimmability (0-100%) having no harm to cycle life span. Hence it is considered to be a Disruptive Technology in the Lighting Industry.

Nano Ceramic electrodes, being non-metallic, do not degrade in high operating temperature, unlike its metallic predecessor that tends to form amalgam, nor are the ceramic electrodes oxidized. Hence A CPFL requires less mercury vapor filler (1.6 mg as opposed to 5 mg) than normally needed to offset the amalgam formation on the conventional metallic electrodes. In addition, its lamp tube surface usually runs at a lower temperature (about 45℃ vs. 75℃ for the conventional FL). On top of all, the CPFL retains its superior performance in terms of luminosity and power conversion efficiency with its 0-100% dimmability. Hence it is an ideal product in the era of energy conservation society.



Latest Advertisement
2011
2/2011 HKTDC Lighting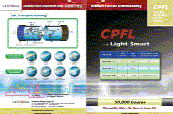 Seminars
2009